Politics free, community ran and fiercely committed to the development of more than 180 different styles of combat and martial arts, the British Martial Arts & Boxing Association (BMABA) is fast becoming the most prestigious professional body for coaches, instructors and senseis.
Join one of the UK's fastest growing & most exclusive martial arts & boxing associations.
Become A Member For Free OR  Find Out More About Us
See How We Can Help You
Instructors & Clubs

See how we can elevate your club with our licensing, insurance & associationship.

Find Out More

Students & Participants

Find out more about joining or training at a BMABA registered club and see how we can help our students progress.

Find Out More

Associations & NGBs

Explore the services & insurance we can provide your Association with and get in touch to form a lasting partnership.

Find Out More
Welcome to the home of the British Martial Arts & Boxing Association (BMABA) – a multi-style, politics free professional body for instructors, coaches and senseis.

We're fiercely committed to the development of UK martial arts and act as a body that ensures professional standards, helping our members with everything from licensing, insurance and regulation through to business support, advertising and development.

Our Association opens it's doors to membership from instructors and clubs across the country. From first time senseis with newly formed clubs to multi-national franchises with hundreds of instructors; the BMABA offers a professional, friendly and dedicated place to grow.

We've welcomed

Instructors, Students & Visitors
Since January 1st 2012
Latest From Our Blog
Sorry, nothing to show here

"I cannot recommend [the] BMABA enough. They have helped us set up our club from the beginning and have been incredibly helpful.

We turned to BMABA for advice and we are very grateful for them going out of their way to help us in anyway that they can.

Our club is proud to start its adventure with the BMABA team and all of their members, and I hope that we all grow together."

Carl and Nick
Combat M.M.A + Self Defence
Why Join Our Association?
Certification

Our instructor certification & dan grades are internationally recognised, allowing you to teach privately or publicly with confidence.

Insurance

Student, instructor and events insurance – all provided at some of the best available prices and packed full of extras.

Resources & Tools

From a free club website through to template documents & downloadable grading certificates, we'll help your club grow.
Business Support

Let our expert written articles & guides help you turn your passion into a full time profession with our business support.

Leading Student Services

From student insurance & licensing through to grade recognition and a student community; it's all as standard with our student packages.

Equipment & Supplies

Save money & time by purchasing customised equipment, clothing, supplies & training aids securely through our Association.

Flexible & Modern

Enjoy an association that's modern and up to date, allowing you the freedom to run your club the way you want to.

The British Martial Arts & Boxing Association (BMABA) is a professional, community run, politics free governing body that represents, supports & develops more than 180+ different styles of combat sports, martial disciplines & self protection systems.
Unlike many martial arts associations at the moment the BMABA is leading the industry in terms of it's abilities to regulate standards, protect and authenticate certification & licensing and provide the leading tools, resources, licensing & insurance for it's members.
Our association was founded back in 2012 by Giovanni Soffietto, a martial arts and boxing instructor passionate to see professionalism and change in our industry whilst upholding the integrity, respect & time-honoured traditions that make our sports & disciplines unique to any other sports on the planet.

Frustrated by a lack of affordable, transparent & honest governing bodies the BMABA (British Martial Arts & Boxing Association) was established as a safe-haven for honest instructors and senseis looking to form a lasting relationship with a national body interested in protecting their best interests…
Learn More About Us 
"[The BMABA] has got to be a first; after over 31 years in martial arts and various governing bodies this one has to be the best by far.

Very helpful in all ways even when i make mistakes you come to the rescue; you seem to go that extra mile for me."

Richard Harris – Doveside Academy

See What Our Other Member's Are Saying…
Join Us Today For Our Renowned Certification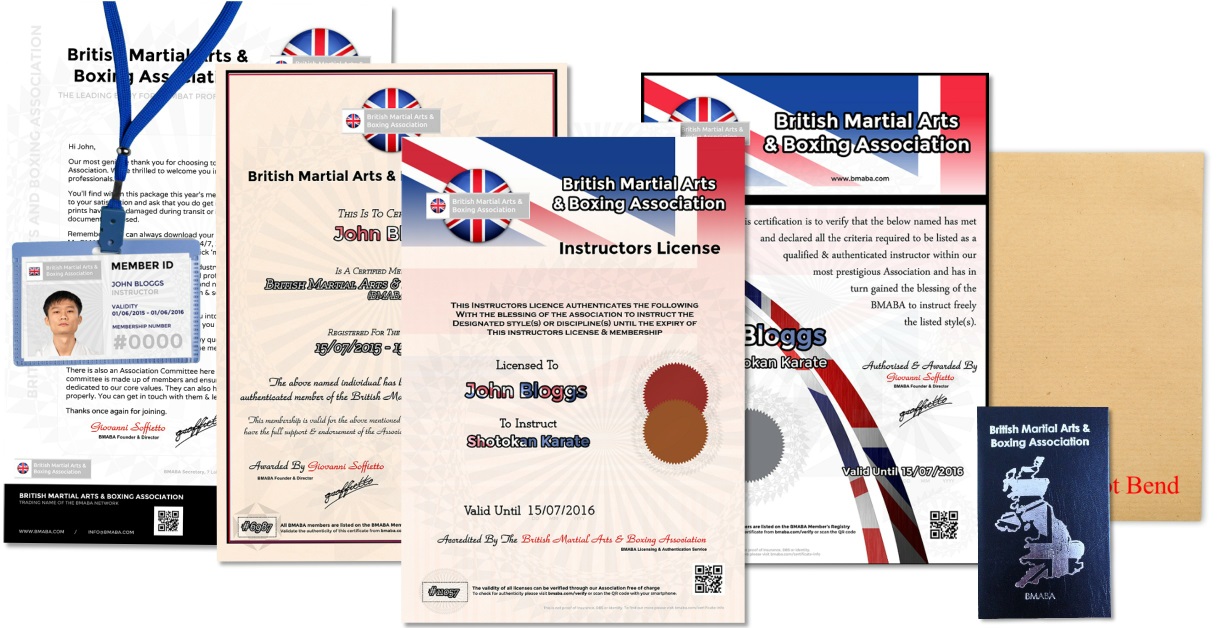 See What Our Membership Includes Join Us Online

See What We Can Do For You & Your Club…
Use The Toggles To See How We Can Help You Grow
---
First Time Instructor & Newly Formed Clubs
If you're starting up a martial arts club for the first time it can be a daunting process.
There's alot to think about – and it goes far beyond just insurances and syllabuses. You need to have a website so you can reach out and grab new students. You also need to have a business plan and business support so you can grow, not to mention about a million other things!
We are really passionate about helping first time black belts and black belt equivalents find a route into teaching for the first time. We have an ever-growing wealth of knowledge and resources you can rely upon when it comes to starting your first club or teaching for the first time. You may already have some ideas of what you need / want from your new club or you may want some help getting your ideas together. We offer free & confidential support to those looking to start their own club so you can get the advice and guidance you need before committing to anything or anyone. You can send us an e-mail or give us a call and we'll happily talk you through all of your requirements. You may also not really know much about Association's and what we do or feel you don't need us. It's entirely up to you – but we think we can help.
You'll need affordable instructor insurance & student cover which we can provide or point you towards at some of the best prices in the UK. You'll also need a professional and dynamic website for your new & growing club. We provide a free WordPress website for all of our members at no extra cost so you can get a professional grade website at no cost.
We work in partnership with martialhost.net which provides martial arts web hosting & design so we can give you excellent discounts & freebies if you decide to get your own website set up, too.
We can also offer you loads of free downloads, useful free software & documents / template forms for your new club so you can get professional forms without any cost if your new to it all. We can offer what we believe to be one of the most comprehensive start up support for new clubs in this country right now and all of our expert advise is completely free of charge to anybody.
If you're looking to put together your own syllabus and teach your own variation of a style you hold a black belt in we can also help you set up a recognised syllabus and arrange appropriate insurance cover where possible, too. This is also free, of course. As well as this you'll need recognised qualifications & certification which we provide with every membership. You can see the licenses & certificates we provide with memberships by clicking here.
In short, everything from beautiful instructor's certification through to sted-fast insurance is available from just one place. We offer hundreds of resources and tools to help you – from a dedicated community and business section through to professional student grading certificates and template documents you can use in your club – all from just £20 per year.
To find out more about what our membership includes why not start by exploring our membership resources or our available insurance.
Established & Medium Sized Clubs
If you already have your club up & running you most probably have most of what you need in place already or have a good idea what you need or would like to introduce to your club / business. We don't have any politics or hidden agenda in representing you. You're free to grade students as you want, when you want and for what you want. We don't interfere at all in your clubs training and we don't have any terms or conditions you need to meet and adhere to which gives us 'ownership' over your club, either.
We're not an Association that prescribes syllabus, doctrine and criteria to what you teach – instead we're a professional body that represents instructors and the way you teach.
You may want a better website – we can help you with that with our Free BMABA.COM WordPress website. We also work in close partnership with MartialHost.net & can offer discounts and freebies if you'd like stand-alone full web hosting. We can also provide student cover with a license book, instructor insurance & events / tournaments insurance at some really competitive prices, too – but you don't need to buy insurance through us, you're welcome to get that elsewhere and pay a smaller membership fee to get licensing / membership features without instructor, student or events cover too. This means you can carry on using any current provider or Association if you like.
We're flexible and think you should be free to make these kind of choices.
If the Association your with at the moment is too regimental or controlling or if you'd like some certification that looks the part and covers your requirements we can help with our martial arts instructor licenses and certification.
If you already have a club you'll probably already know what you're looking for and what you need from us. That's absolutely fine – let us know what you need and hopefully we can provide it cheaper and more efficiently than your Association at the moment. If you get to know us we're sure you'll like what you see. You can also look at our membership features and see if we've got something you think will benefit you, too.
There's four sections for you to look at;
Membership Features & Resources
Instructor, Event & Student Insurance
Our Licensing
or
More On Us
Large Clubs & National Associations
If you're an Association or larger club you no doubt need to be able to rely heavily on certain aspects of your trade (we understand that – we're an Association too) and we can help you with that. We can provide excellent discounts on martial arts student insurance and can provide solutions for excellent events cover / instructor / student insurance policies.
We can also provide your core services and additional ones like I.T, Web Design, Web Hosting and more with absolute, complete confidentiality so you can rely on us to take care of the things you need with less cost & absolute customer service you can depend on.
If you're an Association just starting up and need some white-lable student insurance we can provide that. Did you know that there are many Associations in the UK selling student insurance & licensing that actually use the BMABA for their base policy and cover?
We also work in close partnership with other BMABA Network sites and can provide additional services, such as martial arts website design & hosting, certification design and printing, equipment and license books, I.T services, syllabus and certification / licensing services and so much more to Associations and larger clubs.
Best of all, your customers and competitions never need to know you're going through us so you can get the absolute perfect cover at a fantastic price with maximum scalability, friendly customer service and a sted-fast service you can depend on.
Martial Arts Student Insurance, Licensing & Membership
If you need to cover your students look no further than the British Martial Arts & Boxing Association (BMABA).
We're proud to provide some of the UK's most affordable student insurance. Our policies are available from as little as £4 per student and license books are also available to accompany any policies at the smallest possible additional charge. You can set up insurance for your students easily when you're a member or we can set up a payment gateway on our website where your students can pay their own insurance securely and automatically which saves you paperwork & time. You are free to charge what you want from your students which should help you create extra revenue for your club.
As a note worth remembering if you already have students covered elsewhere you aren't required to sign them up with us. It's completely optional and there are no additional charges on your membership fees if you don't want to sign up students with us. Likewise you don't have to purchase a license book with a policy and you can buy license books without a policy etc.
We're not only able to offer affordable and flexible student insurance protecting your students against more than 180+ styles and nearly 100+ weapons, but we can provide recognised and professional student licensing, checkable membership and a range of other student only resources at no additional cost.
You can find out more about the cover available and view some sample certificates on the student insurance page.
If you need member to member cover speak to us & let us help you. You don't need to insure students in bulk – one at a time and whenever you need to is fine. Likewise, if you want to put through a huge bulk block at once we can easily handle this in a timely fashion too.
We are the only UK association with a live API system that allows you to insure students in real-time for automatic and instant cover.
Martial Arts student insurance is provided by our group cover policy with Towergate PLC so we can be flexible to meet your needs where possible.
Find out more about our student cover from here.
Martial Arts Instructor Insurance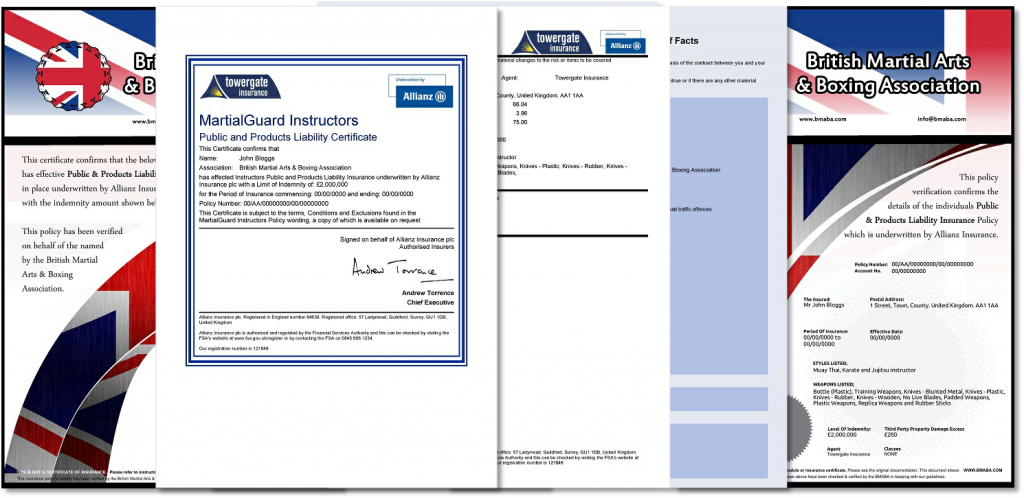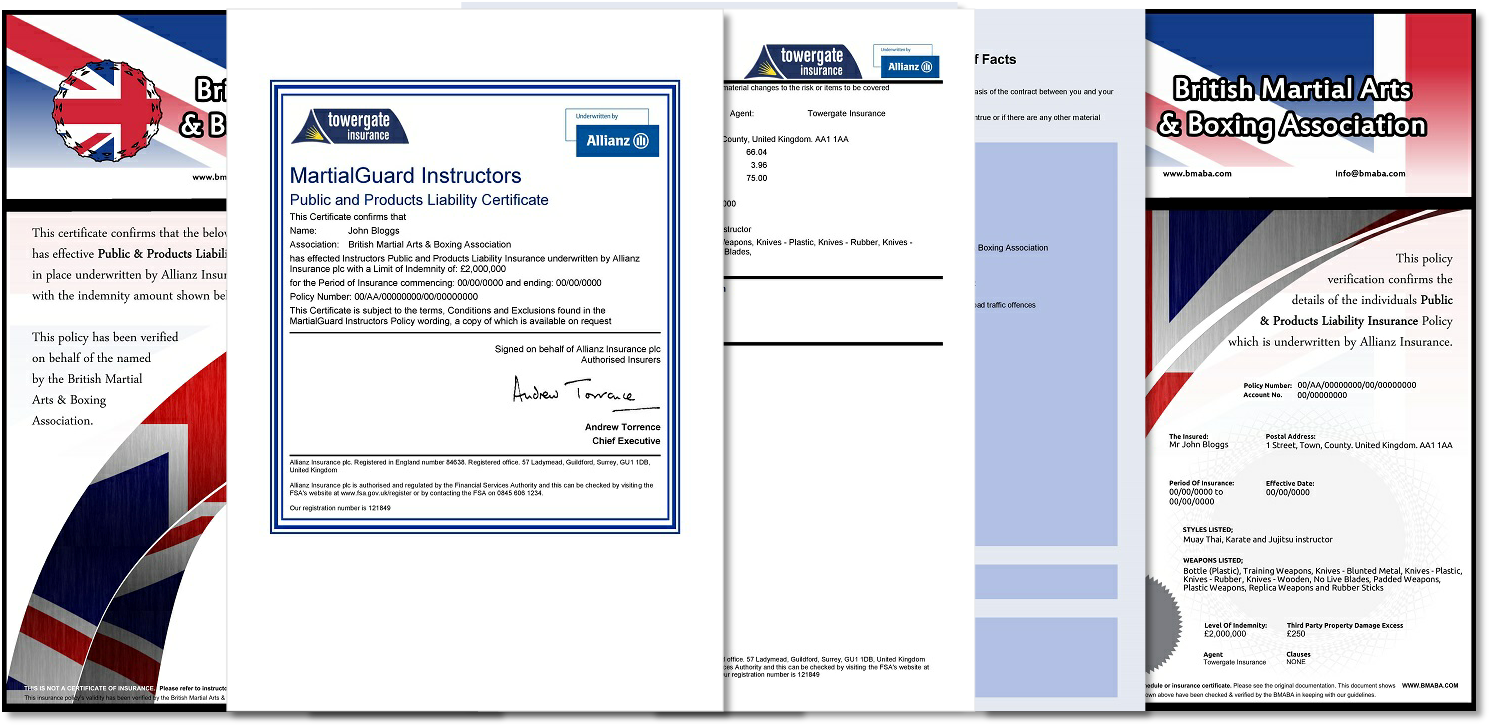 We are not insurance providers and don't initiate, activate or administer any instructor insurance ourselves. What we can do is provide access to some of the best providers in our industry and facilitate insurance alongside membership.
No UK Association should be offering direct insurance policies to individual cover instructors on a named policy unless regulated by the FCA – to our knowledge no association in the country is regulated to this effect.
This is due to changes in regulation by the FCA (Financial Conduct Authority). Read More. 

With two policies on offer from Lloyds & Allianz we can point you towards the most flexible combination of insurance policies that will include cover for over 180 styles & disciplines and nearly 100 different types of weapons. You could have your policy with you in as little as 20 minutes and have it provided by a name you can trust.
We're also able to arrange cover for the more difficult styles to get cover for – such as Mixed Martial Arts, Historical European Martial Arts (HEMA / WMA) and Freestyle / Concept Styles. We can also arrange cover for instructors whom are not yet black belts (subject to certain criteria) along with other speciality insurance for instructors. We're passionate about what we do and because of our respected brand name insurers are often happy to communicate with us when it comes to trying to classify 'new' styles or styles that aren't currently covered. We can also vouch for you via our referee instructor reference program and arrange instructor cover for instructor's whom can have their senior / chief instructor vouch for their expertise, too.
Contact us if you have any specific questions or requirements. Alternatively you can find out more about our policies in the martial arts insurance section.
Martial Arts Events Insurance

We are experienced at arranging insurance for martial arts events, martial arts fight nights, martial arts seminars, workshops, instructor training courses and more.
Whether you need a morning of cover or a 3-4 day policy we can help and we can offer easy to understand cover at some of the UK's best prices, too – saving you and your club money.
It covers a huge range of weapons & styles and we can explain everything to you so you understand what's what and what isn't included. This cover is provided by our group cover policy with Towergate and we pay an excess for any insurable events – we pass that small excess and charge on to you and you are covered through our group cover policy. Easy.
You can find out more about our martial arts events cover and view a sample insurance certificate on the martial arts tournament insurance page.
Martial Arts Web Design, Business Support & More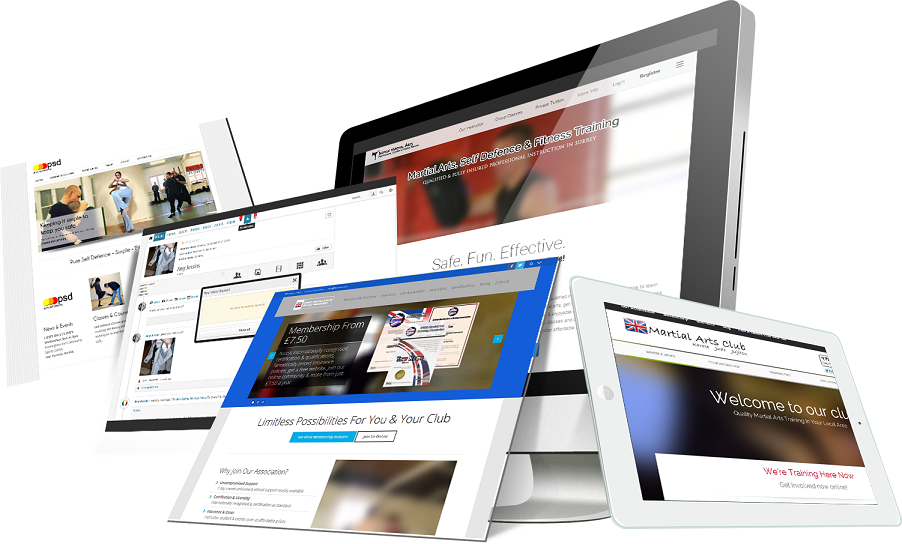 Martial Arts Websites, Hosting & I.T
We have access to some exceptional hosting & IT capabilities. Everything from simple club websites through to e-commerce, full featured websites, online shops, secure member's areas and so much more. We also work in partnership with martialhost.net and can provide professional hosting & design from there, too.
All of this power is available readily to our members with a free BMABA.COM WordPress website and even if you're not a member we're happy to offer advise and provide I.T services if you need them, too. As far as we're aware we are the only Association in the UK right now that has this much I.T capability and the only Association to be actively passing that onto our members with Free Websites & other I.T services / software to help bring your club into the 21st Century and get you the students you deserve.

Business Support, Student Retention & Growing Your Club
We have dedicated Business Support within our member's area to help you grow your club, help you retain students and provide you with the tools you need to do business better, improve your club & make your teaching your career, too. We provide trade priced equipment, online resources, documents, templates, downloads & more to help you along. If you're not a member you can still give us a call or drop us an e-mail and we'll try to help where possible. All contact is strictly confidential.

E-Learning & Martial Arts Qualifications And Training
Working in partnership with esensei.org we're able to provide exclusive access to online e-learning courses, qualifications and programmes designed specifically for martial artists, boxers & self defence instructors / advanced practitioners. Membership with our Association entitles you to free premium courses and exclusive discounts.

Access To An Entire BMABA Network
The BMABA Network provides a huge array of services and tools, serving the martial arts industry in education, insurance, associationship, regulation, services, provisions & IT. This network, comprised of several different sites, services and organisations, all of which are premium and cost independently, are free or heavily subsidised to member's of our Association.

We don't believe in charging you the earth for a signed piece of paper and nothing more. Our membership is based on offering you as an instructor or club owner absolutely everything you could possibly need, all under one roof.
From licensing & insurance through to business support and a community. Free websites and hosting through to certification and club listings. It's all available with a single price tag and membership to our Association.
An Association Dedicated To Professionals
We're committed to helping honest instructors succeed and cowboy instructors go down.
Ran As A Business

We don't like the idea of student licenses taking 5 weeks to return and people 'at the top' feeling they don't need to answer to their members because it's an Association. Instead, we run our Association as a business, focusing on quality, customer service and ensuring we offer everything in a quick, reliable fashion.

Focused On You

We're not interested in dictating the syllabus you teach or the issuing of coaching qualifications. We're much more focused on you as a professional instructor and ensuring you have the tools you need to make them happen. That means offering you the support, guidance and tools to do what you love doing even better than you do right now.
Politics Free

We don't take any interest in shouting about who's running what and who has (or hasn't) done something else. The petty squabbling and nonsense found in many small and large UK associations is, as far as we're concerned, a complete waste of space and that's why we're strictly politics free, and always will be.

Friendly & Professional

We absolutely love what we do and take great pride in offering a service that's both friendly and relaxed but at the same time professional and dedicated. We're available 24/7, 365 (subject to availability) to ensure our members get the support they need. If you join us, you're joining a focused & friendly community of like-minded people.

The UK's Leading Multi-Styled Association
Introducing & Leading The Newest  Technologies & Initiatives For Our Members
---
We don't interfere with the way you run your club. It's yours and should remain that way.
We offer recognised certification that's linked to a national database.
We offer excellent value for money with services & membership features worth hundreds of pounds available for less than most other Association's sign-up fee.
We believe in representing our members and their interests.
We're not interesting in name-throwing or boasting – just honest work and good ethics.
We pride ourselves in being honest, open and flexible.
With the BMABA you're free to;
Grade students independently as you please
Control your clubs direction and the syllabuses taught
Remain a member of style-specific Associations and follow the criteria set by them
Develop & grow as an individual and professional as you see fit
With the UK's best support, guidance, membership resources, licensing, network, community and more right behind you – all for a single annual membership fee.