Take away a direct 25% off the total sale cost. No deductions for margins or tax; just a straight 25% of everything.

As an Association we're growing fast – but we'd like to reach more martial arts instructors, clubs and black belts even quicker than we're managing to do now.

As a black belt yourself no doubt you come across many within the industry; dojos, training sessions, seminars, forums, exhibitions are just a few of the places you rub shoulders with sometimes hundreds of other instructors and black belts.

Now you can help spread the word about the real change we're making within our industry & be genuinely, financially rewarded for your hard work & loyalty.

As a member of our affiliate scheme you can enjoy a fantastic 25% off all sale prices obtained via your referral. That means if you talk to a fellow friend & black belt and they join through your affiliate link with a membership plan worth £70, you'll receive £17.50 – no questions asked.

The extra cash you gain can help provide your club with new equipment, pay your insurance & association fees – or maybe go towards your personal income as additional spending money.

Some affiliates may be happy referring one or two members a year and earning an extra £30 for this or that, whilst others may want to actively promote our Association and generate hundreds of pounds a month in commission.

There's no maximum amount you can earn a month – it's completely uncapped.
What's more – our system is secure & rock-solid, so you can be sure you're not missing out on commission.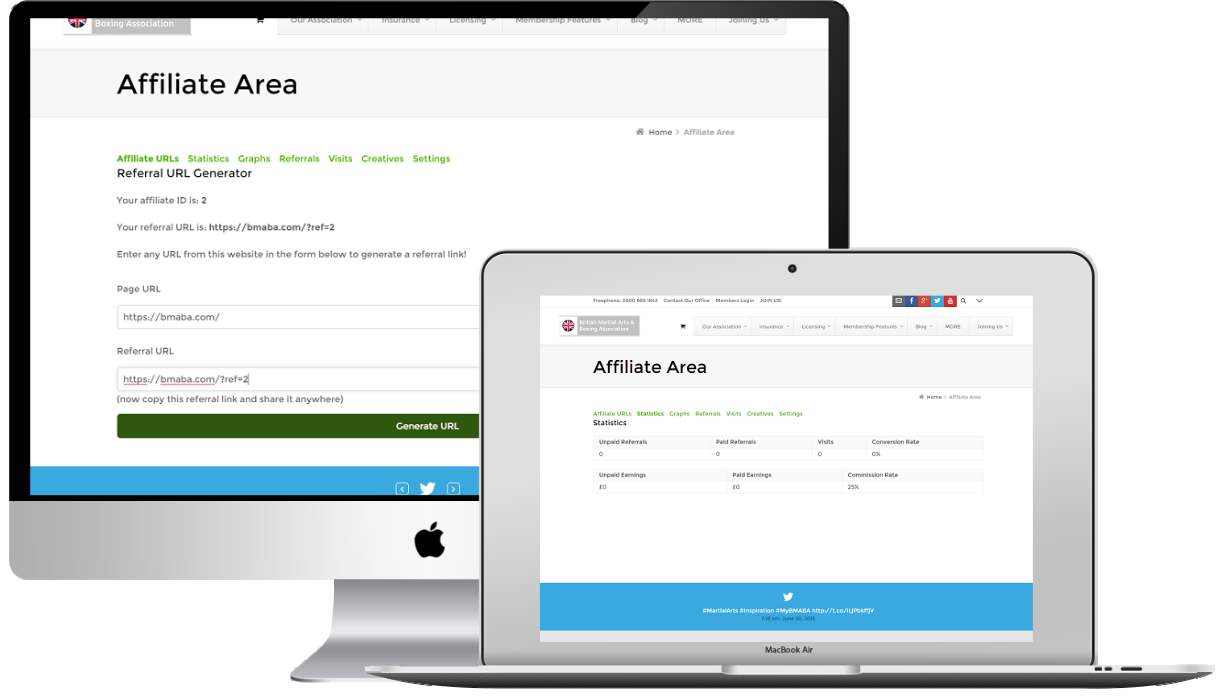 How Much Can I Earn?

You're not bound to any limits – so here's an example of how much you might earn in a month if you have a good website (or post in a busy forum, for example) and socialise within a club or community of martial artists;

ONLINE REFERRALS;

6x From Your Website
2x From A Forum

OFFLINE REFERRALS;

3x Local Black Belts

Total Referrals: 11

Let's estimate the following membership plans are selected;

Digital x 2, Standard x 4, Extended x 3 & Professional x 2

With the above you'd earn a minimum of £104.75+.


That's more than an extra £1200+ a year. Imagine how far that could go within your club or even in your personal income; it's up to you what you do with your income.

How much commission do I earn from each sale?

You'll receive 25% commission from any sale. We don't give you 25% of the profit margin after fees and VAT either; you'll receive 25% of the total sale.

How do I get paid?

We will pay you via PayPal. If you don't have a PayPal account you'll need to register for one. It's free of charge and easy to setup.

How often do I get paid?

We generally pay all commission once a month.

Can you help me understand how it works & how to advertise the BMABA?

Of course we can! We can help you understand how the link works, where to use it, what to generate and how to track offline referrals too! All this support is available from within our member's area so you fully understand what you're doing.

Is there any small print, terms or minimum sales?

Absolutely not. It costs absolutely nothing to start – no need to purchase anything or pay a penny. Once you've started there's no minimum sale price either – whether you have £1 commission or £1,000 you'll get a straight, no-nonsense payment.

If you don't get any commission in a month nothing happens – your account stays open and you can try again the next month.

Join Our Affiliate Scheme For Free Online Now
Help is available via our member's area. If you have any questions about the scheme please just ask.