Access More Than 45+ Blank Martial Arts Student Grading, Award & Progress Certificates To Use Freely Within Your Club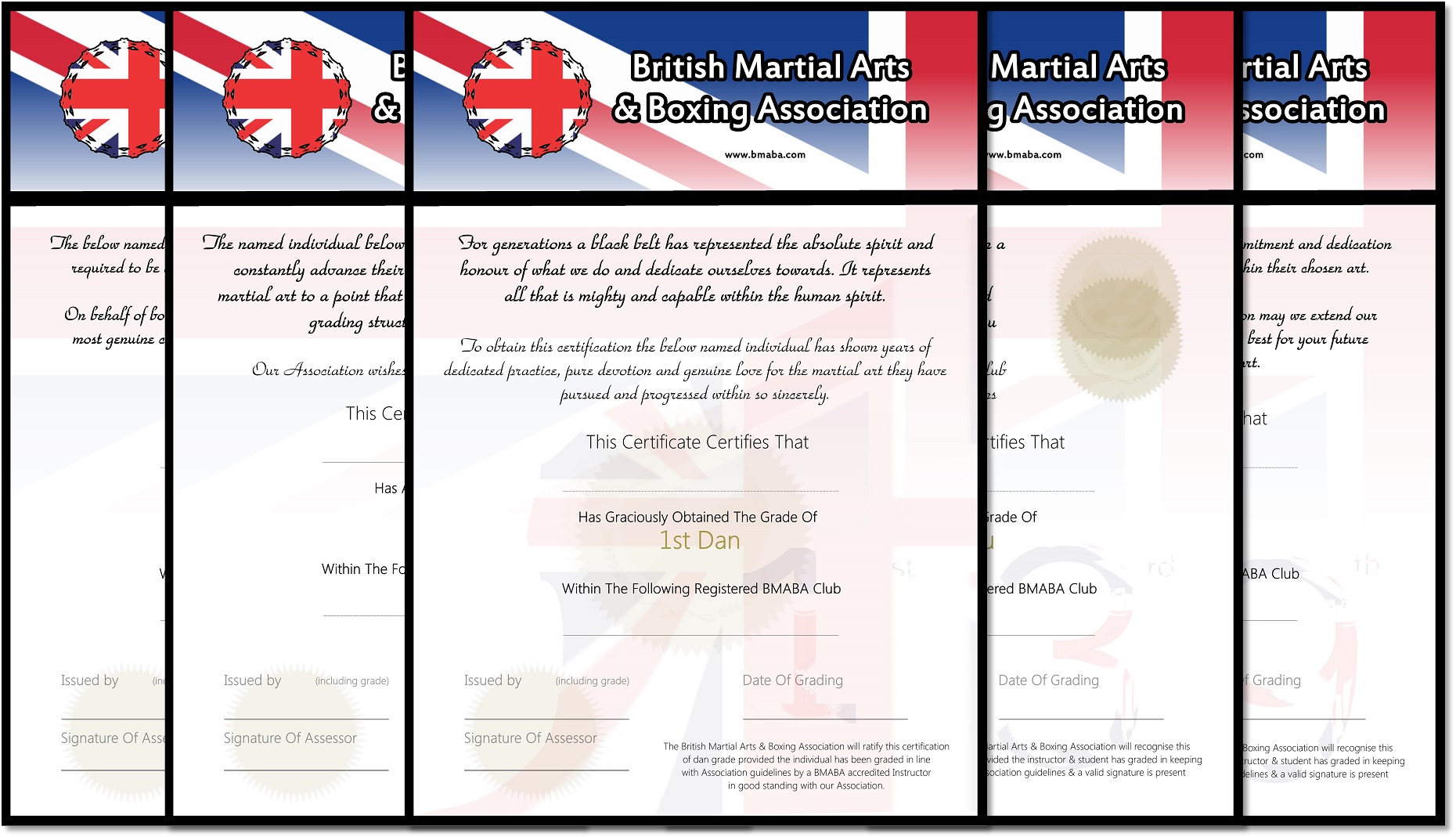 We understand the importance of ensuring you have the tools & resources to engage your students and retain members within your club.
That's why, among many other resources & student related content, we make available for download a range of student grading certificates you can use with your club whenever you like.
Let Your Club's Certification & Awards Stand Out
We know how difficult it can be to access things like blank student certificates for you to use within your club – especially without paying extra for those resources and tools.
We make available a range of certification in a whole manor of different designs including grading certificates (from 1st Dan through to 10th Kyu) as well as progress awards, competition certificates and more to really help your club stand apart from the competition and access the best possible resources for your students – all included with the membership fee you pay annually.
We do our best to ensure a wide range of designs, styles and award types ranging from traditional style grading certificates through to modern style awards for your club & students to receive and use freely.
Download As PDF For Free 
We don't expect you to pay for physical certificates like so many other Associations do. That's why by default we make all certification freely available for download and use in the format of extra high quality PDFs. If you want to print them you can do so your self either at home or at your local printer's for a tiny compatible fee.
Need Your Student Grading Certificates Printed Professionally?
If you would rather not print the PDF certification yourself we can offer high quality prints with all of our certification printed on minimum 125gsm silk gloss paper with all necessary foils and even additional pre-filled text printed professionally onto the certificate for you. This service is available for much less than you might think and offers an affordable, high-end alternative to home-printed student certification.
Ratified & Checkable Grades Issued In-House By You
By default we'll recognise all student grades without any prior notification up to 1st Kyu provided it's on a BMABA template grading certificate with all information signed and present by an instructor whom's membership was in date at the time of grading.
If you'd like to take it to the next level we have a range of really affordable or totally free options to ensure the grades you issue are ratified and recognised by our Association. All you need to do is follow our guidelines which highlight grading integrity (which you already no-doubt stick to anyway) and we can provide free style or grade registrations and records as well as additional's for your certificates, such as checkable QR codes & serial numbers which confirm a student's grade & grading information in live time, plus so much more.
 "We're the first martial arts association in the world to use QR codes and a serial registration system to record and verify documentation."
It's through our constant work to improve what we do whilst remaining completely politics free that means our members can access this type of certification, verification & ratification for their student's grades either completely free of charge or for a tiny additional fee (depending on the service(s) required).
You shouldn't have to answer to  governing bodies trying to restrict what you do. If you can agree to our grading guidelines, which ensures you don't simply pass for cash or discriminate during gradings then you're most welcome to make the most of all student certification, documentation, resources & ratification that's available to you.
What else can we do to convince you?
Show me instructor licenses & certification Sign Me Up!