The BMABA Network provides a wide range of sites and services to the martial arts industry from more than 15 different brands, websites, services & businesses.
Insurance, licensing, regulation, printing, website hosting & design, networking, competitions and leagues, instructor recommendations – and loads more – all bundled into a single Network dedicated to martial arts and with any BMABA membership access to this constantly growing network is yours, free of charge.

BMABA Network Sites Have Been Viewed
100,000+ 
Times since January 21st 2014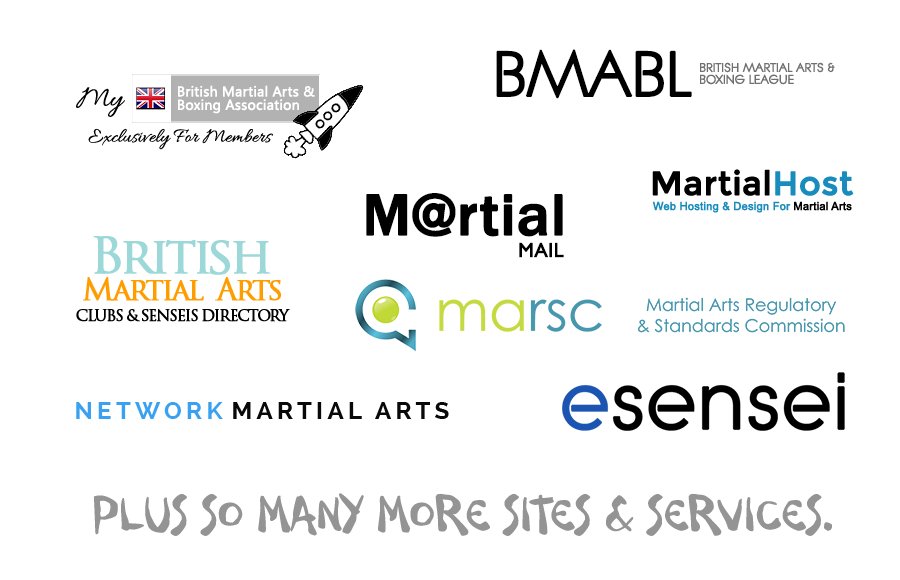 All of your favourite sites with just a single membership. Enjoy premium services, free premium access, special content, special prices and so much more from all sites on the BMABA Network. This includes all those shown above plus many more like MartialPrint.com, Rate My Sensei, Martial Artist Union and all other services, sites & opportunities – current and new.
This is a substantial membership offer that allows you (and depending on your membership additional instructors and students) full premium access to the growing list of sites & services under the BMABA Network name. If free full premium membership is not applicable you'll get the latest updates, the best prices, reductions, exclusive first-chance glimpses and so much more.
The BMABA Network is a collection of sites, services, businesses, organisations and initiatives built specifically for the martial arts and combat industry. Primarily aimed at instructors, but also targeted participants & students, the BMABA Network provides a vast collection of sites and services all created and ran with a strict code of conduct.
The Network's aim is to unite & connect the industry under an ethical and unanimous name, bringing people together and handing more power to instructors, students and individuals within the industry.
Yes – where possible. Some sites and services (like MartialPrint, for example) don't offer membership and some others might not be able to offer completely free membership, but in that circumstance you'll probably still be entitled to discounts on services & goods, access to exclusive content, be the first to learn and try new services plus more.
If the service or site can offer free membership, it will. Simple as.
Fancy exploring the BMABA Network yourself or finding out more about advertising with them, their services or what it's all about?

Join Our Association
14+ Sites & Services, A Single Price Tag.
If you'd like to enjoy a wide range of 14+ sites and services from as little as £20 per year there's only one organisation in the world that can offer free BMABA Network Access.

*The British Martial Arts & Boxing Association separates it's activities to that of the BMABA Network. Some sites and services may still be under construction. Fees, services, free membership & access and full membership may vary depending on services, sites and availability.