The Martial Arts Industry's Most Advanced & Intuitive Member's Only Resource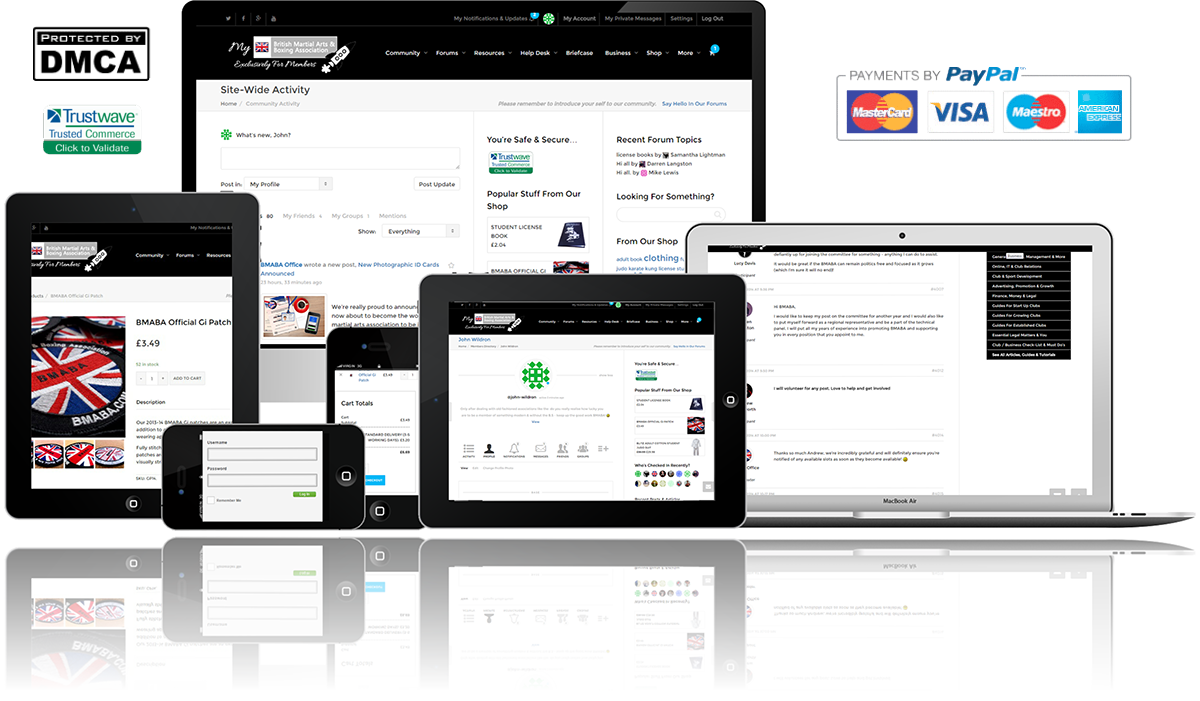 [icon_counter icon_type="custom" icon_img="3645″ img_width="74″ icon_size="32″ icon_color="#333333″ icon_style="none" icon_color_bg="#ffffff" icon_color_border="#333333″ icon_border_size="1″ icon_border_radius="500″ icon_border_spacing="50″ flip_box_style="simple" box_border_style="none" box_border_size="2″ box_border_color="#A4A4A4″ block_title_front="Community Driven" block_desc_front="Beautiful & User Friendly" block_text_color="#333333″ block_front_color="#efefef" block_title_back="Community Based" block_desc_back="MyBMABA includes a rich & interactive community that brings our members together through interactive forums, activity, walls, profiles, groups, private messaging and so much more" block_back_text_color="#333333″ block_back_color="#efefef" button_link="Icon Block" button_text="Buy One Now!" button_bg="#333333″ button_txt="#FFFFFF" flip_type="horizontal_flip_left" height_type="custom" box_height="400″]
[icon_counter icon_type="custom" icon_img="3624″ img_width="74″ icon_size="32″ icon_color="#333333″ icon_style="none" icon_color_bg="#ffffff" icon_color_border="#333333″ icon_border_size="1″ icon_border_radius="500″ icon_border_spacing="50″ flip_box_style="simple" box_border_style="none" box_border_size="2″ box_border_color="#A4A4A4″ block_title_front="Everything You Need" block_desc_front="From insurance & licensing through to digital & business in one place" block_text_color="#333333″ block_front_color="#efefef" block_title_back="Everything You Need In A Single Place" block_desc_back="MyBMABA combines everything you, your students & your club could possibly need in a single place, including insurance, licensing, news, shops, digital, websites, business, resources and loads more in a single place" block_back_text_color="#333333″ block_back_color="#efefef" button_link="Icon Block" button_text="Buy One Now!" button_bg="#333333″ button_txt="#FFFFFF" flip_type="horizontal_flip_left" height_type="custom" box_height="400″]
[icon_counter icon_type="custom" icon_img="3646″ img_width="74″ icon_size="32″ icon_color="#333333″ icon_style="none" icon_color_bg="#ffffff" icon_color_border="#333333″ icon_border_size="1″ icon_border_radius="500″ icon_border_spacing="50″ flip_box_style="simple" box_border_style="none" box_border_size="2″ box_border_color="#A4A4A4″ block_title_front="Safe & Secure" block_desc_front="Easy to access, safe & password protected" block_text_color="#333333″ block_front_color="#efefef" block_title_back="Safe, Secure & Easy To Use" block_desc_back="Access the things that matter to you – private messages, student documentation, membership information, contents and more all from a secure, password protected, inner-site managed security system that's designed to keep you safe." block_back_text_color="#333333″ block_back_color="#efefef" button_link="Icon Block" button_text="Buy One Now!" button_bg="#333333″ button_txt="#FFFFFF" flip_type="horizontal_flip_left" height_type="custom" box_height="400″]
[icon_counter icon_type="custom" icon_img="3647″ img_width="74″ icon_size="32″ icon_color="#333333″ icon_style="none" icon_color_bg="#ffffff" icon_color_border="#333333″ icon_border_size="1″ icon_border_radius="500″ icon_border_spacing="50″ flip_box_style="simple" box_border_style="none" box_border_size="2″ box_border_color="#A4A4A4″ block_title_front="Access Our Whole Network" block_desc_front="15+ Sites & Thousands Of Resources" block_text_color="#333333″ block_front_color="#efefef" block_title_back="Access Our Whole Network" block_desc_back="Access our entire range of services across the whole BMABA Network – a martial arts network combining more than 15 sites and services including loads of resources and opportunities, from a single, controlled & easy to use dashboard." block_back_text_color="#333333″ block_back_color="#efefef" button_link="Icon Block" button_text="Buy One Now!" button_bg="#333333″ button_txt="#FFFFFF" flip_type="horizontal_flip_left" height_type="custom" box_height="400″]
Unlike Anything You've Ever Seen Before
My.BMABA is not just another member's only area.
It's a fully interactive system that offers you full control over the entire selection of membership features & resources we offer.
Everything is in place, under one roof and can be accessed with a single account, making absolutely everything you need to run your club easy to find, even easier to use and painfully effortless for everything else.
Resources, licensing, insurance, digital, business – and so much more, all in a single, unified place.
An Absolutely Massive Resource Exclusively For Our Members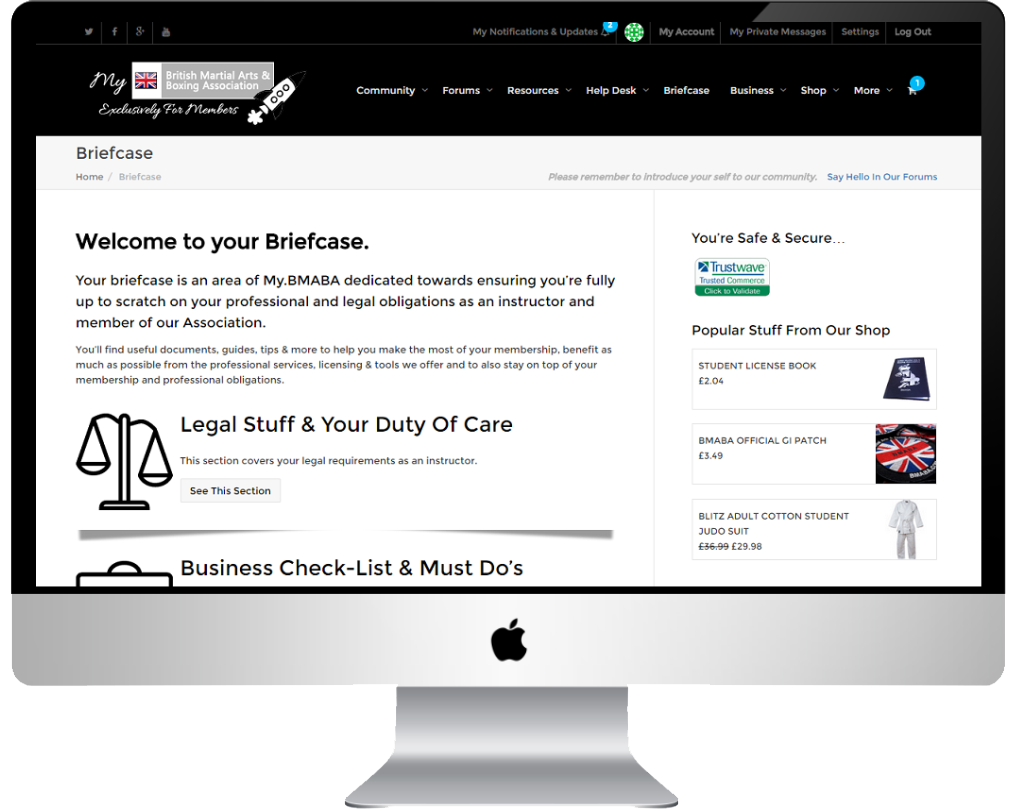 MyBMABA provides instructors and clubs with a secure portal from which everything can be managed. Make contacts, post in the forums, register students, purchase events cover, arrange DBS checks, post your club on our club finder, access network sites, submit syllabuses, download template documents, activate a free BMABA wordpress website, send and receive private messages and so much more – all from a single account.
It's online 24/7, 365 days a year, so you can get the job done – even if that's in the middle of the night.
— 21st Century Technology. Old Fashioned Values. —
Automated & Easy
Gone are the days of download spreadsheets and then e-mailing them across to your Association, awaiting an invoice and then waiting even longer. MyBMABA automates everything. Insure students from start to payment & confirmation in less than 60 seconds with instant membership and insurance.
Community Inspired
We want you to know your fellow-member. That's why MyBMABA is built around serving a community. Engage in our forums, post in our community, share photos, videos and more, build groups, post events, join in debates, send and receive private messages, update statuses, connect & make friends with other members and more.
Gain Points & Rewards
Our intuitive, custom, purpose built site integrates community stats, experience points and rewards all into one. Now you can get rewarded for downloading documentation, advertising your club, exploring our network, sorting our student cover, studying business and IT plus more – there are even gifts & giveaways, too!
Absolutely Epic
Months upon months and thousands upon thousands of pounds have been invested in MyBMABA to build it from scratch for the specific & rigorous duties of serving our Association members. The system, software, content and site is absolutely massive and provides our members with more online power and more resources than any other like-for-like anywhere in the world.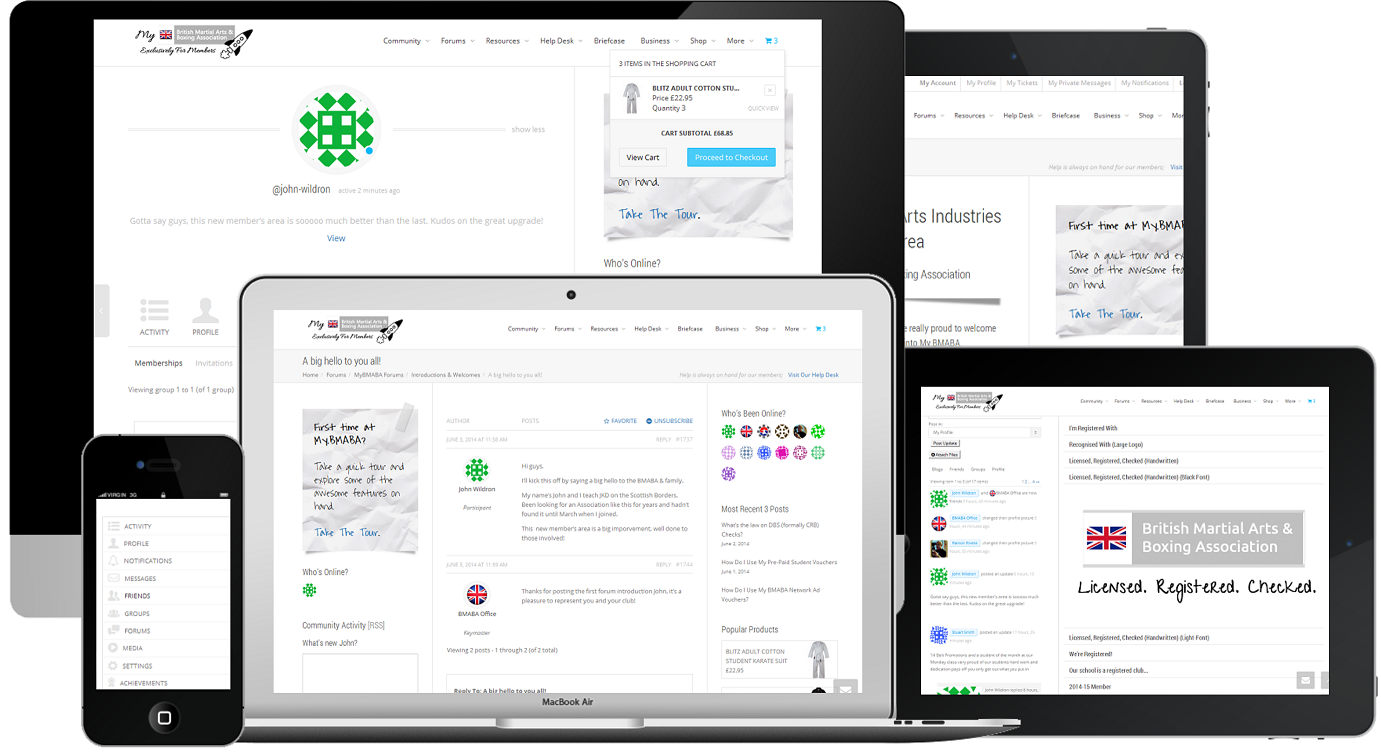 Join The UK's PRO Martial Arts Community
Join Us Now & Get Instant Access To My.BMABA.
Some Of My.BMABA's Best Features







Plus So Much More!
The Most Intensive Member's Only Area In The Martial Arts Industry
Don't forget, we've got business support, IT & website support (plus a free website), a network of sites and partner organisations for you to explore, insurance, licensing, resources and so much more.
It's all exclusively available to BMABA members.
Join The UK's PRO Martial Arts Community
Join Us Now & Get Instant Access To My.BMABA.