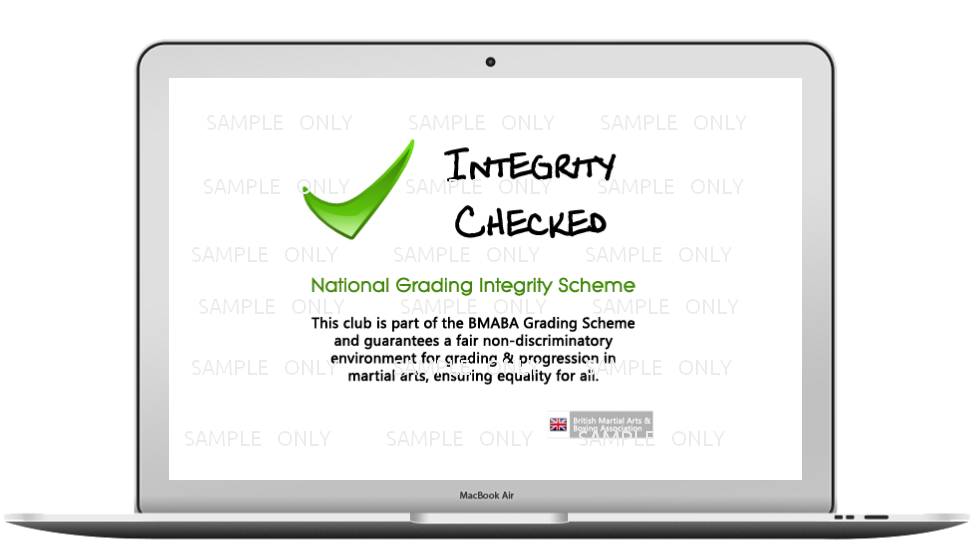 — Ensure The Grades You Award Are Internationally Recognised —
And Protect Your Students From Discrimination In The Process
What is this scheme?
Our association is the first in the UK to offer a fully digitally available scheme that ensures standards are met and guidelines are adhered to during all gradings within your club to actively prevent discrimination against any students of all ages and backgrounds and to ensure all issued grades are internationally recognised without charging our members a penny extra in the process.
How does it benefit my students?
The scheme ensures your students are graded in a fair and equal way. It ensures the grades they receive are truly earned and that they only progress when they're properly ready to. There's no real joy in a quick-pass to black belt – it's a 1,000 times better when it's earned honestly and this scheme does just that.
It also helps protect them from discrimination – conscious and subconscious during their grading process and reassures them that the grading they take is controlled, professional and traceable.
How does this scheme benefit me and my club?
As an instructor it will ensure you have the tools, knowledge and resources to conduct fair & equal gradings. Beyond ensuring you don't consciously or subconsciously discriminate against your students it will help you ensure tough standards are in place for your gradings which protect the sanctity of your art.
It also helps you fail students professionally if necessary and offers you the backing & support of a major Association if students don't take the news well.
On top of all of this you'll be nationally recognised on the national grading integrity scheme and you'll be able to show this off through online logos, documentation and certification.
Best of all, it's completely free for you to take part in, too.
[info_list position="left" style="circle with_bg" icon_border_style="none" icon_border_size="1″ border_color="#333333″ connector_animation="fadeInUp" connector_color="#333333″ icon_bg_color="#1e73be" icon_color="#ffffff" font_size_icon="50″][info_list_item list_title="Voluntarily Join The Scheme For Free" icon_type="selector" list_icon="Defaults-play-sign" animation="fadeInUp"]It's completely free to join. You'll need to be a member of our Association first.
When you're ready to step up to the mark and ensure all student grades are issued in a fair environment and have those same grades ratified by our Association you simply join the scheme online via our purpose built members area, called MyBMABA.[/info_list_item][info_list_item list_title="Meet The Guidelines" icon_type="selector" list_icon="Defaults-check" animation="fadeInDown"]We ensure high standards and tough guidelines to make your gradings fair and equal. It's not just about protecting your students from prejudice – it's also about preserving the sanctity of our beautiful arts by ensuring there is a strict no grade-for-cash policy in place and by making sure you have the right technology, documentation and training to make fair assessments towards passing or failing a student and have the tools to fail students confidently in a way that's not negative but instead progressive and pro-active.[/info_list_item][info_list_item list_title="Take The Test" icon_type="selector" list_icon="Defaults-keyboard" animation="fadeInUp"]When you feel you and your club is ready for the new program to take place simply submit yourself for assessment. It's completely free and can be done entirely online.
We will assess your understanding of the scheme along with your clubs (or yourself, if you teach independently) abilities to deal with gradings in the correct manor.
We will also make sure you have the correct paperwork to back up gradings and know the correct procedure to ensure you're keeping proper records.[/info_list_item][info_list_item list_title="Gain Nationally Recognised Status" icon_type="selector" list_icon="Defaults-trophy" animation="fadeInDown"]When you pass the assessment you and your club will be awarded National Grading Integrity Scheme status.
You'll receive digital certification (with optional printed certification available for a minimal fee) and you'll be able to display a range of Grading Integrity Scheme pass marks on your website, certificates and paperwork.[/info_list_item][/info_list]
Common FAQ's
Is this scheme really free or is there hidden charges?
It really is 100% free. From start to finish it's completely free of charge.
Will I be a member of the scheme for life?
For as long as you remain a member of our Association you'll stay on the scheme. Certification will be renewable on an annual basis and we may re-cap some of your knowledge or check some paperwork to ensure you're sticking to the scheme properly. Either way, it doesn't cost you any extra.
Do I need to enter for every individual instructor in my club or just once?
You only need to enter once per club. If you have more than 1 instructor you'll need to ensure each instructor that will be assessing or passing gradings is on the scheme and a member of our Association.
Does this really help my student retention and club?
Yes – of course!
Nobody wants to be treated unfairly and everybody likes to feel safe. This scheme does that for your students. It also means your student grades are recognised and offers a professional process for your students to go through when obtaining new grades, which makes them feel comfortable and secure; a much better environment for both you and them.
Do I need to insure students through you for this scheme to apply?
No you don't. This is a stand-alone scheme and is non-dependent upon you spending any extra money elsewhere with our Association.
Join Our Association
Join the only Association in the UK offering the National Grading Integrity Scheme
You can join us online 24/7, 365 days a year without needing to download or post anything.