Developing or creating a new style, concept or syllabus is a daunting task but it's also very important the for the development of Martial Arts in general.
We're working hard to lead the way in which new styles & disciplines are recognised in the UK with a strict referral system that will not only enable you to gain a recognised dan grade in your new style but also certification & even insurance for that same style, too.

[youtube_sc url="http://www.youtube.com/watch?v=cNuLFJtmRkQ&feature=youtu.be" color="white" theme="light" modestbranding="1″ controls="0″ rel="0″ showinfo="0″]

How Does The Process Work?
[info_list position="left" style="hexagon" icon_border_style="none" icon_border_size="1″ border_color="#333333″ connector_animation="fadeInUp" connector_color="#333333″ icon_bg_color="#1e73be" icon_color="#ffffff" font_size_icon="35″][info_list_item list_title="Define Your Own Syllabus" icon_type="selector" list_icon="Defaults-book" animation="bounceInUp"]As an instructor you no doubt have your own ways of doing things and know how you like to teach certain aspects of your art. The first you need to do is clearly define all aspects of your syllabus and ensure it's ready to be put into writing. We can help you along from start to finish with this.[/info_list_item][info_list_item list_title="Submit Your Syllabus For Review" icon_type="selector" list_icon="Defaults-zoom-in" animation="fadeInDownBig"]When you have everything finalised you're ready to submit it for review. We have a set template you can download & use to help build your syllabus submission. It helps you ensure you've thought about everything you need to and allows a professional template for you to use for your submission too.
The first part of the review process is for your syllabus to be assessed by our in-house assessment panel who will critically review your teaching methods, syllabus and content.[/info_list_item][info_list_item list_title="Development Committee Review" icon_type="selector" list_icon="Defaults-group" animation="fadeInUp"]After our in-house assessment your syllabus will be anonymously handed over to our Development Committee who will provide a second critical evaluation of your work. They will need to vote either for or against your syllabus approval. The majority vote will be used.[/info_list_item][info_list_item list_title="Review & Result" icon_type="selector" list_icon="Defaults-thumbs-up" animation="fadeInUpBig"]After your syllabus has been reviewed by our in-house team and development committee your syllabus will be ready for a result. Everything is done on a democratic voting system, so if our in-house team approves it and so does the committee your syllabus will pass. Likewise, if it's failed by both parties it will fail the process overall.
In the event that it's passed by one party and not the other your application will become 'hung'. If this happens both parties will be invited to re-access the work and try and reach a conclusion.[/info_list_item][info_list_item list_title="Certification & Recognition " icon_type="selector" list_icon="Defaults-certificate" animation="fadeInLeft"]If your syllabus is approved you'll have it officially recognised by a leading UK association and you will be able to have it recognised as a set teaching system for yourself and your club.
You will also receive certification & licensing for the approved syllabus and you'll be entitled to any additional professional services to aid your syllabuses progression.[/info_list_item][/info_list]
Is this service completely free?
Yes, it is.
We do have some specifications on how often you can submit a syllabus for approval, but provided you don't need to have a syllabus approved more than once every 90 days it's completely free.
Can I get a physical certificate for this?
Yes, of course. By default you will receive an ultra-high quality PDF (digital) certificate. If you'd like us to produce a high quality, stamped & foiled print for you we can do this for a minimal extra charge.
Is there a minimum qualification I need to access this service?
You must be registered as a full instructor (or club) member of our Association. Trainee or assistant instructor's aren't eligible. For more information please see our eligibility criteria.
More FAQ's on our syllabus approval service are available from this page – just scroll down a little further.
This service is only available to members of our Association. If you'd like to use this service please
join our Association today
.

What does the approved syllabus certification look like?
This is the certificate provided free of charge when your syllabus is successfully approved. By default you'll receive it in high quality PDF (digital) certificate format. We can also provide high quality prints with foils & stamps where required for a small additional fee, too.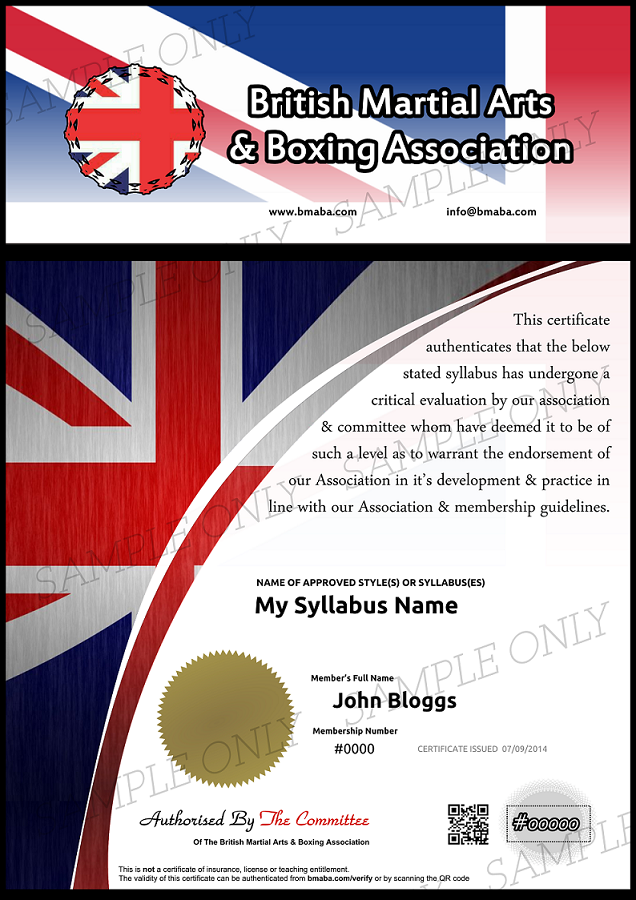 Syllabus & Style FAQ's
Is this service really completely free of charge?
Yes – the entire process is 100% free of charge as our Association subsidises the cost entirely for each member, on the basis of one syllabus submission per 90 days.
How do I submit my syllabus?
You'll need to be a member of our Association to submit a syllabus for approval. If you are registered with us, simply login to MyBMABA and follow the instructions provided in the licensing section.
If you're not already a member of ours you can register with us online for instant membership from as little as just £20 per year.
What qualification(s) do I need to access this service?
Generally speaking you'll need to be a black belt (or equivalent) capable of teaching a class unsupervised. To make this process more accessible it's open to all full members of our Association. If you're able to register as a full member of the BMABA you'll be able to access this service. This generally means it's available to all instructors.
Assistant instructors aren't eligible for this service.
To see what qualifies as eligibility criteria please see here.
Why would I want to have my teaching syllabus recognised by the BMABA?
There are many reasons to get a teaching syllabus approved by a recognised, respected Association.
As an individual it's hard to get the respect you deserve for alot of hard work & experience. Syllabus recognition is an official way of having your teaching methods, styles, syllabus & content official ratified by a leading UK body.
It shows your work is professional, scalable and in keeping with a high standard of ethics. That's something every instructor or club can benefit from.
My current association only offers this service to clubs with lots of registered students, is that the case with the BMABA?
No, absolutely not.
You don't ever have to register your students with our Association and syllabus recognition is 100% not dependent upon you registering any students, spending any extra money or jumping through any hoops.
If I have my syllabus approved through the BMABA do I still own it?
Yes, 100%.
The copyright to the syllabus produced will always belong to you. We simply accredit the work.
Is there a limit to how many syllabuses I can approve through you?
No – you can have as many syllabuses approved as you need, although common sense does kick in here.
You're entitled to one submission every 90 days free of charge. You can also pay a small additional charge if you'd like additional syllabuses reviewing between these submission periods.
We do reserve the right not to receive a submission if we feel the integrity of the service is being brought into question. Submitting a syllabus isn't something you should when you have a spare 5 minutes – it takes many weeks – even months – so we won't allow constant submission if we feel the motive is wrong or the work is sub-standard.


Got a question about our syllabus recognition service? Contact us if you need to.