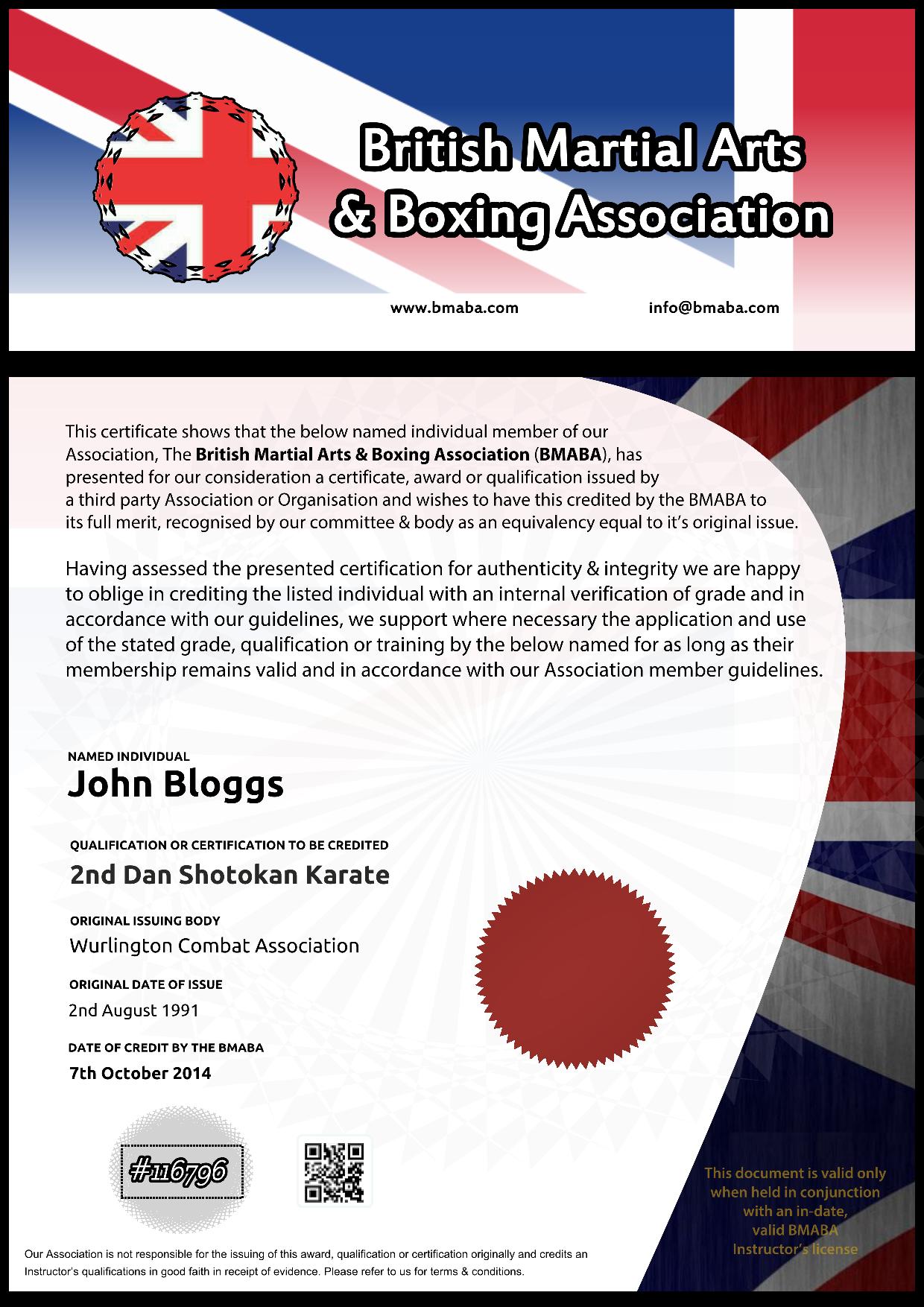 Over the years we've supported & assisted a wide range of instructors whom are looking to break away from their over-controlling current body but are left with a shortfall in their certification.
The problem is that some UK associations feel it necessary to issue certification that is only recognised internally, therefore trapping instructors and clubs indefinitely.
Others may have certification issued by an Association that is no longer trading and therefore has no traceable history or records.
Our qualification and certification service is designed to help instructors and coaches bring antiquated or poorly designed – but genuinely earned – certification from their current Association or Body to a respected Association such as our own.
Our certification transfer service allows instructors to be credited for the achievements they've done elsewhere.
For example, if John gets a 2nd Dan through a club registered to another Association and then wishes to start his own club, he may find that initial Association doesn't recognise his grade outside of it's own circles. This, as far as we're concerned, is nothing short of holding a club or instructor ransome, and it's simply not fair.

[info_list position="left" style="hexagon" icon_border_style="none" icon_border_size="1″ border_color="#333333″ connector_animation="fadeInUp" connector_color="#333333″ icon_bg_color="#1e73be" icon_color="#f7f7f7″ font_size_icon="35″][info_list_item list_title="Present Your Current Certification" icon_type="selector" list_icon="Defaults-inbox" animation="fadeInRight"]This is a genuine service and will only recognise certification or licensing that's been legitimately earned elsewhere. If you'd like to start this process you'll first need to be a BMABA member. Simply present your current certification, along with all evidence, for transfer via our dedicated system at
My.BMABA
.[/info_list_item][info_list_item list_title="We'll Track The Records & Assess The Certification" icon_type="selector" list_icon="Defaults-cog" animation="fadeInRight"]Once we're in possession of the certification and any supporting evidence we'll do what any legitimate body does – we'll check your award, certification or license for authenticity.[/info_list_item][info_list_item list_title="Transfer Is Complete" icon_type="selector" list_icon="Defaults-ok" animation="fadeInRight"]As soon as we've been able to verify the authenticity of your document we'll ratify the grade and credit you for the achievement. You'll then receive the above certification for your transferred grade, certificate or award.[/info_list_item][/info_list]
No, we can't transfer everything.
This service is primarily designed to deal with the transfer of Association issued licensing or certification, including grades.
It can not be used for official qualifications, such as NVQ's or Diplomas. It also can not be used for governing body issued documents, such as coaching qualifications from Judo England.
This service is provided 100% free of charge. You'll also receive PDF certification (as shown above) free of charge too. You can, if you wish, purchase an official print of this certificate – although that's up to you and totally optional.
Join Us Now
Join One Of The UK's Leading Associations
And enjoy this membership feature, along with hundreds more, for a single membership fee.